FAST AND ACCURATE WINDOW TINT TESTING
The most advanced tint tester on the market with fast, accurate results.
AutoTest has just announced the launch of a new light transmissibility meter AutoLight® MAGNETIC. This means a single operator can now take window tint reading hands-free, as some jurisdictions require, to take a photograph the reading. The AutoLight® MAGNETIC improves the earlier products, easily providing an accurate reading.
AutoLight® MAGNETIC is a hands-free light transmission meter measuring the level of light transmitted through a tinted window to determine its safety level. This is lightweight and the fastest tint tester on the market, which gives accurate results with a single button operation.
AutoLight® is an essential tool to assist garages, law enforcement agencies, testing authorities and anyone involved in fleet safety management to help ensure vehicles are compliant and safe.
AutoLight® MAGNETIC hands free window tint testing is the only roadworthy compliant hands-free light transmissibility meter on the market. The AutoLight suite is compliant with ISO 3538:1997 for accurate testing in every country.
The AutoLight® has a bigger brother the AutoLight® Plus, this model provides the connectivity that makes result management easy. It connects to an Android app that can be installed on the AutoTest® Workshop Pro, providing a single tool to perform brake tests and windscreen tests, keep a digital record, and take photographs as well. Readings can be stored directly on the unit or printed on the included portable Bluetooth printer or a network printer.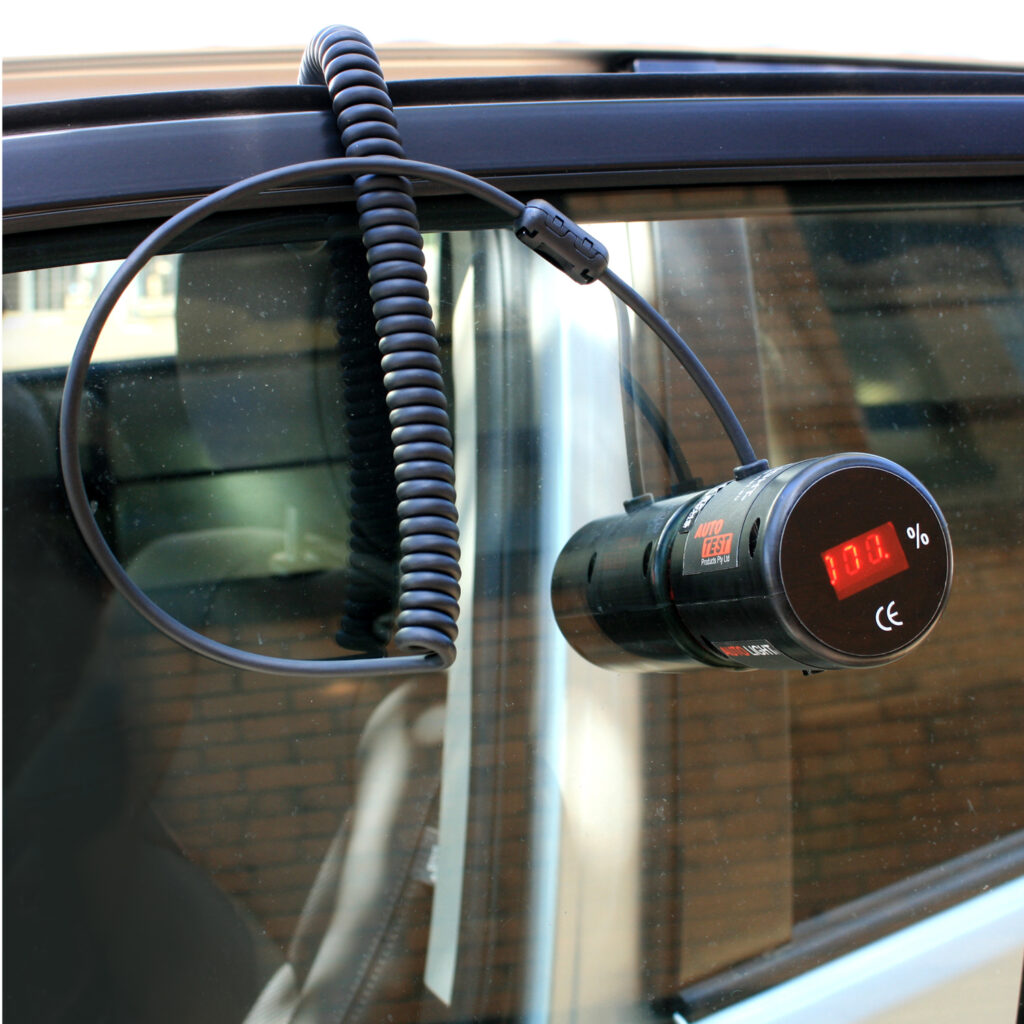 It may be well worth the investment if you're a looking to upgrade your equipment or are looking to equip a new workshop.
AutoTest also offer a number of packages that will suit the needs of a new workshop, such as the AutoTest® Workshop Roadworthy Kit, which includes an AutoStop® Maxi (the tried and tested decelerometer), the AutoLight®, and the AutoTest® Headlight Align.
You could consider the latest tablet based decelerometer the AutoTest® WorkshopPro 10, which can also be purchased as part of a kit- the AutoTest® Ultimate Roadworthy Kit, which also includes the AutoLight® MAGNETIC, and the AutoTest® Headlight Align. If you consider upgrading the Ultimate Roadworthy Kit, it includes the AutoLight® Plus MAGNETIC and we add in the Android AutoLight® software for free to achieve full connectivity between the AutoLight® and WorkshopPro 10.
AutoTest Products Pty Ltd is an Australian-owned, award-winning manufacturer of vehicle testing equipment. Highly sought after, their products are sold in more than 50 countries by a worldwide network of distributors, and used by law enforcement agencies throughout Australia, South East Asia and Europe.
AutoTest products are all portable and easy-to-use, making them ideal for regulatory authorities, service testing stations, garages and workshops.
For accurate window tint testing, you can't go past AutoLight® MAGNETIC!
This article was featured in AAAA magazine (Australian Automotive Aftermarket Association) February 2021.