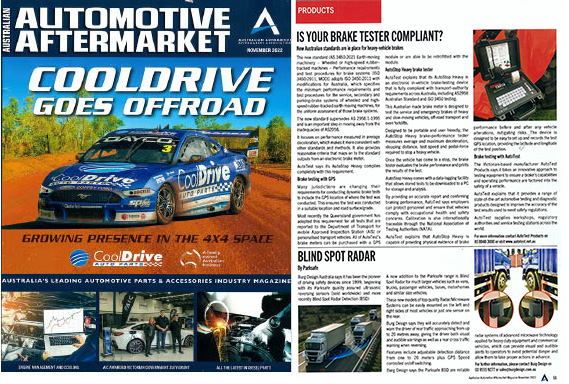 THE LATEST HEAVY-VEHICLE BRAKE REGULATIONS:
NEW AUSTRALIAN STANDARD
As 35450:2021 Earth- moving machinery- Wheeled or high -speed rubber machines- Performance requirements and test procedures for brake systems (ISO 3450:2011, MOD)
The new standard adopts ISO 3450:2011 supersedes as 2958.1-1995 with modifications for Australia.
This specifies the minimum performance requirements and test procedures for the service, secondary and parking-brake systems of wheeled and high-speed rubber-tracked earth-moving machines, for the uniform assessment of those brake systems.
This is an important step in moving away from the inadequacies of AS2958. It focuses on performance measured in average deceleration, which makes it more consistent with other standards and methods. It also provides reasonable criteria that maps on to the standard outputs from an electronic brake meter.
AutoTest's AutoStop Heavy complies completely with this requirement.
Brake testing with GPS
Many jurisdictions are changing their requirements for conducting dynamic brake tests to include the GPS location of where the test was conducted. The tests can be conducted in a suitable location and road surface/grade. Most recently the Queensland government has adopted this requirement for all tests that are reported to the Department of Transport for mobile Approved Inspection Station (AIS) or personalised transport vehicles. All AutoTest's brake meters can be purchased with a GPS module or are able to be retrofitted with the module.
AutoStop Heavy brake tester
How does it work?
AutoStop Heavy is an electronic in-vehicle brake-testing device. This is fully compliant with transport-authority requirements across Australia, including AS2958 Australian Standard and ISO 3450 testing.
AutoStop Heavy is an efficient diagnostic and compliance tool designed to test the service and emergency brakes of heavy and slow-moving vehicles, off-road vehicles and even forklifts used in the transport and mining industries. It's designed to evaluate brake performance in a quick reliable manner, printing an accurate test report that complies with international standards, including the most recent amendment to ISO 3450.
Designed to be portable and user friendly. AutoStop Heavy brake-performance tester measures average and maximum deceleration, stopping distance, test speed and pedal-force required to stop a heavy vehicle. Once the vehicle has come to a stop, the brake tester evaluates the brake performance and prints the results of the test. AutoStop Heavy comes with a data-logging facility that allows stored tests to be downloaded to a PC for storage and analysis.
By providing an accurate report and confirming braking performance, employers can protect personnel and ensure that vehicles comply with occupational health and safety concerns. Calibration is also internationally traceable through the National Association of Testing Authorities (NATA).
AutoStop Heavy is capable of providing physical evidence of brake performance before and after any vehicle alterations, mitigating risks. The device is easy to set up. Records the test GPS location, providing the latitude and longitude of the test position.
Brake testing with AutoTest
Victorian-based manufacturer AutoTest Products takes an innovative approach to testing equipment to ensure a brake's capabilities and operating performance are factored into the safety of a vehicle.
AutoTest provides a range of state-of-the-art automotive testing and diagnostic products designed to improve the accuracy of the test results used to meet safety regulations. AutoTest supplies workshops, regulatory authorities, and service testing stations across the world.
For more information contact: AutoTest Products 03 8840 3000